Okra pods should be about 4"
Fried Okra night at my house! A treat I usually reserve for ordering out as I always assume that frying is messy and time consuming. But luckily I was completely wrong.
I was at Findlay Market on my usual Tuesday peruse of the fresh veggies and I saw a little quart of okra; my eyes and memories just lit up. I could see myself as a kid popping the deliciously, crispy fried bites into my mouth and my mom smiling as I ate my "veggies". I grew up in the south west so fried treats always seemed to creep into meals. I remembered bowls of gumbo and stew that had cooked all day and thickened with the okra. I honestly could almost smell the oil frying and the soup…I was a bit blinded by the okra and ended up buying it all along with some terrible sweet corn from this vendor. But the horrible corn is another story…
So can I really make fried okra? How do you fry something? Do I need to buy a fryer? What kind of batter do you use? Is this going to be hard, cause if it is I am out!? Oh goodness the questions that came to mind, there were too many to count. So I did what every good American does these days and I scoured the internet in search of recipes and someone that knew what they were doing! I learned that Okra is a very good source of fiber and protein, two things everyone needs and made me want to eat more. Food Network of course returns 35 different recipes and all the knowledge you could ever want, but for some reason a link from Google caught my eye…CrazyAuntPurl.com! And by goodness if her charm and "craziness" didn't win me over it was her easy step by step instructions with pictures of how to fry okra that did the trick. So I grabbed her recipe, gave it some tweaks and went for it. This is how I spent my evening: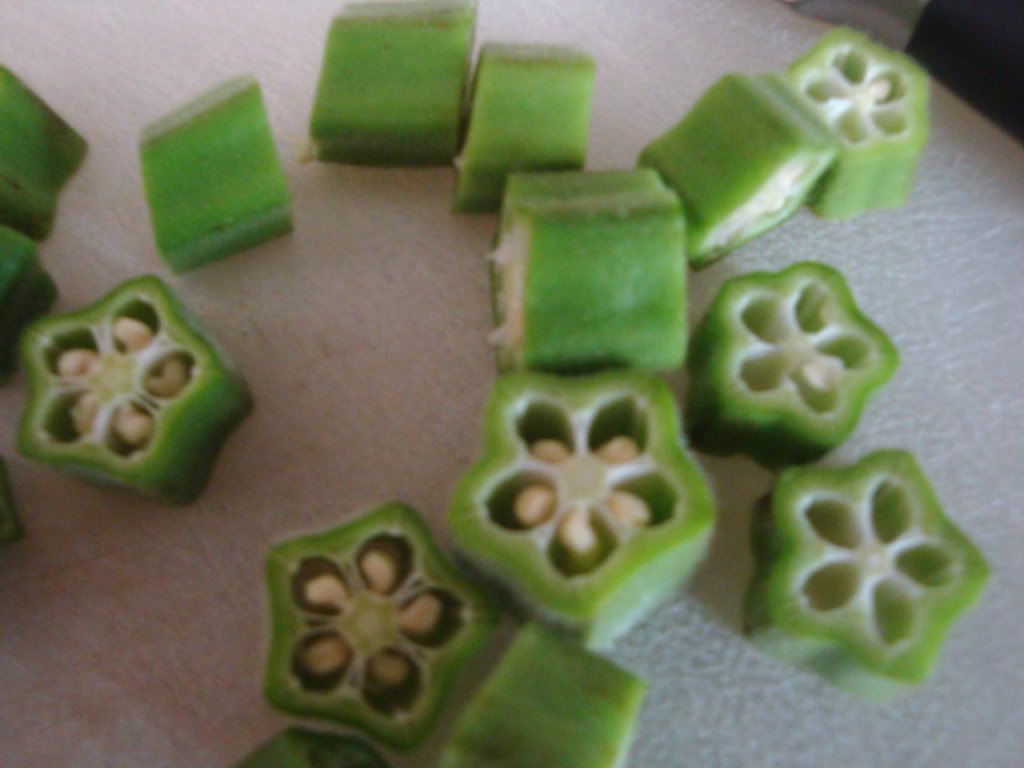 "Southern" Fried Okra Recipe
• Okra: However much you like, cut the tops off and slice about ¼" to ½" thick
• Milk: I used Vitamin D milk because who has buttermilk on hand?
•

Flour

: I bypassed using flour, I think I honestly just forgot about it
• Cornmeal: Yellow cornmeal so I can make cornbread some day, duh
• Oil: Normal vegetable oil works just fine
• Big heavy-bottomed frying pan: I have a cast-iron skillet that works awesome but I am sure any shallow pan would work
Extras: Always salt and pepper your frying batter

(the cornmeal)

and taste it, a trick my mom taught me. I added some cayenne pepper to the batter as well to give it a kick!
Shake an Bake Okra
Make it: Take your cut okra and soak it in a shallow bowl with just enough milk to cover. I found the longer it soaked the more it started to look like I was making rice crispy treats. The sticky okra combined with the milk made a yucky looking paste as I stirred to cover this crazy vegetable. After it had thoroughly soaked I drained the milk out in a colander and tossed the okra into a Ziploc bag with the cornmeal, salt, pepper and cayenne. This part was fun for the whole family, Piña and my youngest niece had fun tossing the bag back and forth and shaking it to make sure every piece was covered. Surprisingly it all stuck quite well, and was not messy at all with the bag. While the kids were having fun I heated up the skillet with enough oil to cover the bottom of the pan. I then dumped all the okra into a now clean and dry colander to get rid of the excess cornmeal. Once the oil was hot enough

(mom says to look for the swimming fish, I never understood that but you can always run a test to see if the oil sizzles up the sides. Remember you can always adjust your heat, I find I would rather go cooler to hotter.)

I tossed the whole batch of breaded okra into the oil and let it fry away for about 5 minutes. Checked it for that golden brown doneness look and turned it to the other side for another 5 minute-ish bath

(the "ish" is when you think it is done, could take 5 minutes to turn golden could take 2 minutes)

. Then a paper towel rest, sprinkle with a little more salt while still hot and viola you have fried okra! And I didn't even get burnt.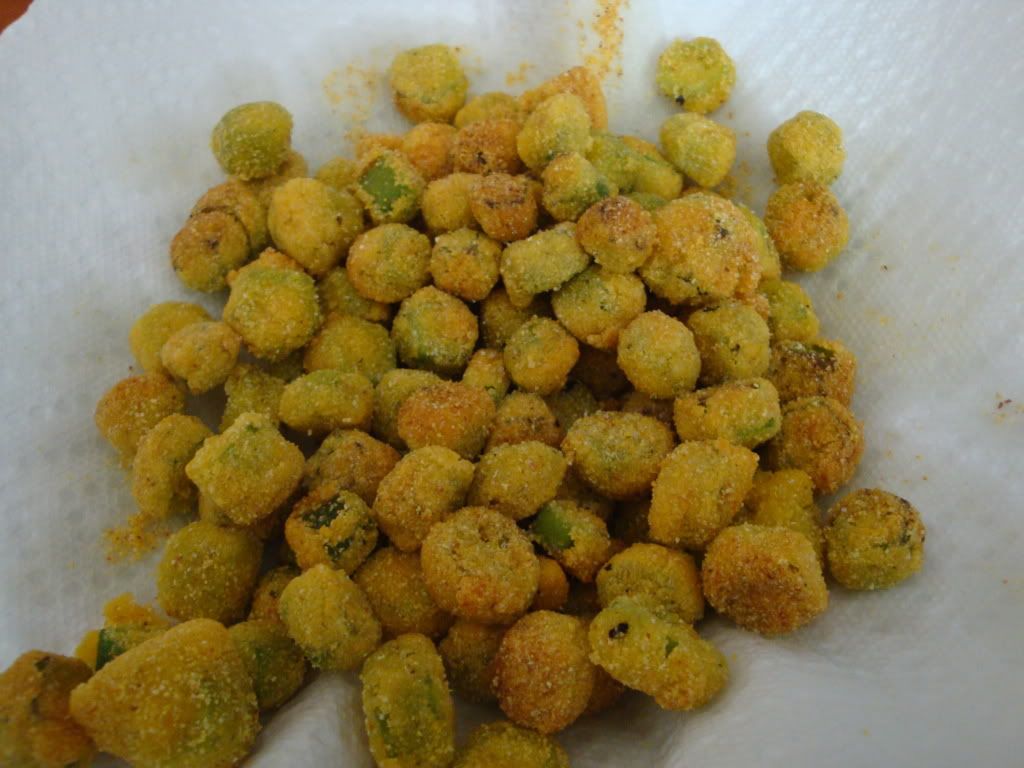 Finished Product
Results: Well Tiger has found his new favorite food, gobbling down these tasty morsels and gumming at them with his no teeth till they were sticky gooey messes in his mouth. My niece even popped them like popcorn making the yummy sounds of a child enjoying a brand new food, she is so like me sometimes. But Piña and her skepticism to anything foreign carefully licked at one, and decided she better leave them where they lie. So by all accounts a pretty decent success, not the results I was looking for as far as consumption from my picky eater? But me and my bottle of red wine loved every bite; and thought lovingly of memories past and now new memories to come.