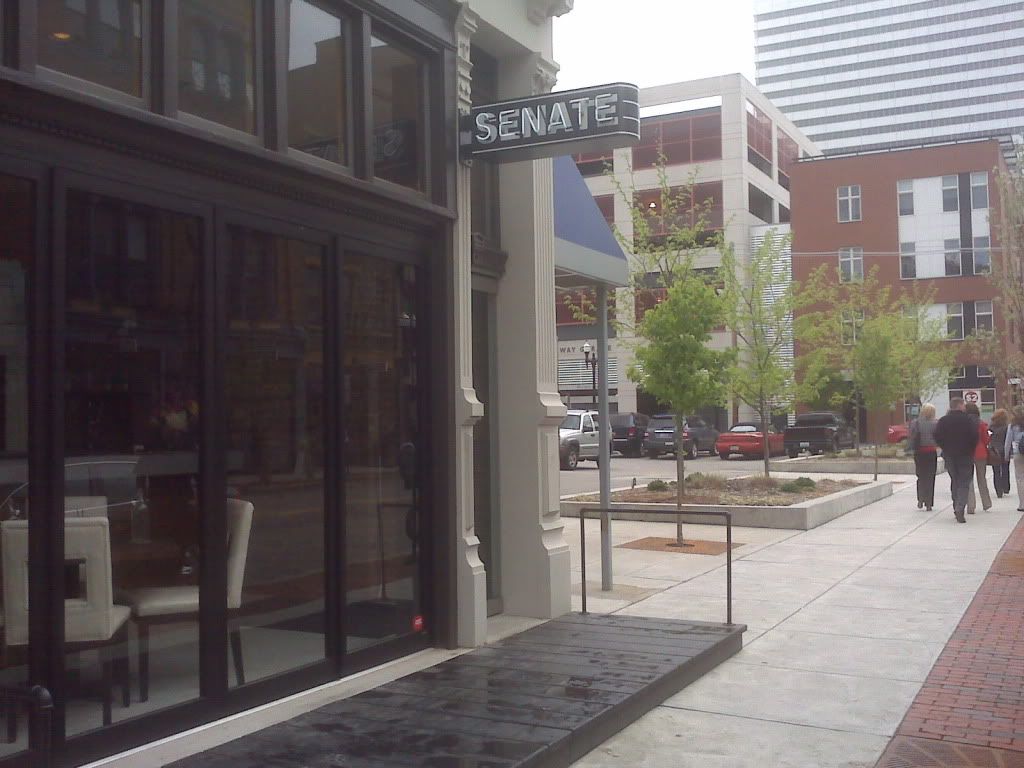 Senate Outside Platform
Senate
Meal: 2 people; $39.55 with tip, trailer park dog, lobster BLT, duck fat French fries and a coke
Thoughts:
$$$
J
J
J
J
(all out of 5)
Senate is located in the new
Quarter
of
Over the Rhine
. Most of you know this area as the place you used to need a hood pass to walk thru, but is slowly becoming the young hip place to hang out.
Senate has opened up just one block north of Central parkway and has quickly become my favorite restaurant to dine at. While the meal above was my first, there have been many that have followed. It is the best lunch experience whether you are eating with a friend or entertaining that big client this is the new place to try.
For me it all started with the wonderful service…you are quickly greeted with a smile from almost every employee, vying for my attention and ready to take care of me. This place already knows my style! Our waiter was right there with water, he was courtesy and knowledgeable about the menu; which helps since I tend to never order for myself. I love when you can walk into a place, talk a bit with the waiter and trust them to bring you something delicious. Mind you this sometimes ends in yucky food, but in a place like Senate you don't need to worry. They took the time with the little touches that make your dining experience exceptional; water in a plastic pitcher is boring but water in an antique jug is awesome, wood accents are boring but salvaged wood adorned with candles is brilliant! Even your walk in was unique with a step up saloon like platform. Other then the perfect service from our server Kyle, Senate has good simple food done right. It is nice to see a niche restaurant in Cincinnati take a hot dog and a BLT and turn it into an experience!
Trailer Park Dog
It is dinner with an idea in mind that actually sticks to it. The trailer park dog was dressed up with bacon, coleslaw and the Cincinnati favorite,
Grippos
chips crushed on top to make it more than your average dog. Mind you chips are not my favorite, nor are Grippos to be quite frank, but it was an extra zing to the meal and a salute to our hometown. Most of the meals deliver on this level, familiar food with twists and turns that make it the new Cincinnati favorite. On return visits I have continued to enjoy the "dog of the day" and love that they post this on
Facebook
so that I feel as if I am always in the know and can comment back about how I feel. Good food does that to me, makes me want to tell the world or at least send my compliments to the chef! PS did I mention that they have my favorite beer on tap?
CHIMAY
!!
So if you are heading out, try this place now. But don't forget to bring a friend or two, because what is a meal without some good conversation and company?